Parents and coaches searching for information on feeding athletes and training young athletes to eat the right foods is essential for successful athletic development.  This ScottCounseling article provides you with the basics when it come to helping your athletes develop proper nutritional eating habits.
Child athletes often require better eating habits. Just as your athletic child needs to practice his or her sport on a regular basis, he or she also needs to practice good eating habits. Because your athletic child's body is being physically challenged at a rate above that of a normal child, parents are wise to become as knowledgeable to help meet the nutritional needs required to keep the athlete healthy.
The old adage that claims, "The family that eat together, stays together," is even more important now. Family meals are not only a time to make sure your young athlete is eating the "right foods," but it's an important time for communication, bounding, sharing and feeling a part of a real important team; "Team Family!" Families that eat together are more likely to see their young children:
eat more fruits, vegetables, and grains
eat less likely to snack on unhealthy foods
less likely to smoke, use marijuana, or drink alcohol
Teens may act like they do not appreciate the prospect of eating a family meal together because they're trying to establish independence. Yet studies find that teens still want their parents' input and counsel, so mealtime is a good chance to connect. Also, consider trying these strategies:
Allow your teen to invite a friend to dinner.
Involve your teen in meal planning and preparation.
Keep mealtime calm and stress-free — no lectures or arguing.
Athletes need to eat from a variety of food groups. Health experts with an athletic emphasis will tell you, however, that an athletes diet, should include more:
Vitamins and Minerals
Your child needs a variety of vitamins and minerals. Brightly colored foods such as spinach, carrots, squash,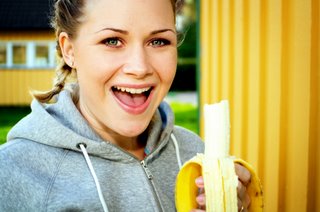 and peppers tend to be packed with them. It's especially important your child get plenty of calcium and iron. Calcium helps your child build healthy bones, which are important especially if your child breaks a bone or gets a stress fracture. Calcium-rich foods include dairy products like milk, yogurt, and cheese, as well as leafy green vegetables such as broccoli. Iron helps carry oxygen to all the different body parts that need it. Iron-rich foods include red meat, chicken, tuna, salmon, eggs, dried fruits, leafy green vegetables, and whole grains.

Protein

can help build your child's muscles, along with regular training and exercise. But there's no need to overload on protein because too much of it can lead to dehydration and calcium loss. Protein-rich foods include fish, lean red meat and poultry, dairy products, nuts, soy products, and peanut butter.
Carbohydrates:

Carbohydrates provide energy for the body. Some diet plans have urged weight-conscious adults to steer clear of carbohydrates or "carbs" as they're often called. But for a young athlete, carbohydrates are an important source of fuel. There's not any need for your child to do any "carb loading" or eat a lot of carbs in advance of a big game, but without some of these foods in your child's diet, he or she will be running on empty. When you're choosing carbohydrates, look for whole-grain foods that are less processed and high in fiber, like pasta, brown rice, whole-grain bread, and cereal. Fiber helps lower cholesterol and may help prevent diabetes and heart disease.
How Much Water Do Athletes Need To Drink?

It's important for young athletes to drink plenty of fluid to avoid any heat illness and dehydration, which can zap a child's strength, energy, and coordination and lead to other health problems.
It's a good idea for your child to drink water or other fluids throughout the day, but especially before, during, and after periods of extended physical activity. Experts recommend that kids drink approximately 1 cup (240 milliliters) of water or fluid every 20 to 30 minutes of physical activity, depending on the child. Shorter competitions may not require drinking during the activity, but it's important to drink water after the game or event to restore whatever fluid your child lost through sweat during the event.
Pressures Facing Athletes
Some school-age athletes face unique pressures involving nutrition and body weight. In some sports, it's common for kids to feel they need to radically increase or reduce their weight to reach peak performance.
Unhealthy eating habits, like crash dieting, can also leave your child with less strength, endurance, and poorer mental concentration. Similar performance issues can come up when kids try to increase their weight too fast. When a person overeats, the food the body can't immediately use gets stored as fat. As a result, kids who overeat may gain weight, but their physical fitness will be diminished.